Last night we ventured out to Fall River, MA to see the
Cultural Center
. The photos online looked beautiful and very elegant, but when we got there we were disappointed. Maybe it was that we saw it in the day light instead of all lit up at night, or maybe it was that it was set up for a wedding that's tonight and the wedding colours were cream and hot, hot pink. Either way we walked in and kind of wanted to walk back out. It just wasn't us. Also, we are really hoping to have the ceremony at the reception site and the only two options at the CC for ceremonies are either to have it in the ball room (up on a stage?? it felt way too high school gymnasium) or out in the foyer (also very strange). In the end we decided to stay and talk to the people there and at least get an idea of prices since we drove an hour to get there.
The Center had several packages starting from $65/pp going to $115/pp, or couples were able to create a personalized menu. The food looked good and the higher priced packages included bar, photographer, and other amenities that other venues we've looked at or talked to charge extra for or don't even provide. I thought the packages were very reasonable, and the people there were nice and helpful. The owner was the one who actually showed us around.
If anything, the trip there was good because it helped us decide that we want a country setting for our reception, not an urban one.
Here are some photos of the Cultural Center: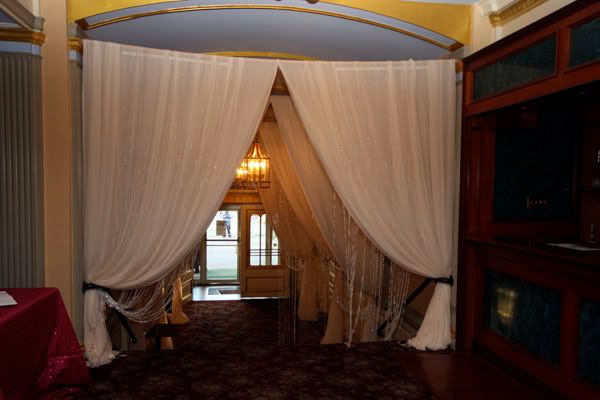 The entrance way. The white curtains are not included with the rental of the hall but are available through a local Fall River florist.