I am so excited about the group of girls I am privileged to have as my Bridesmaids.
Jenny is my Maid of Honour. We have been close friends since my freshman year at URI and she has always been there when I needed her. We took the EMT class together and sang Mandy Moore's
Candy
more times than I can count while driving back and forth to Lincoln RI three days a week. We enjoyed many late night get togethers and Kenny and her boyfriend John are also good friends. They are the quintessential double date couple and the four of us always have an awesome time together.
Sarah is my best friend from high school and while we haven't remained as close during college, I still value her friendship more than anything. I love her sense of humour and whenever we chat on the phone it's like we never even lost a day. She lives in Boston and is a huge Red Sox fan and I am so happy she's going to be able to be a part of our wedding.
Samera is another close girlfriend from college whom I met Freshman year through URI EMS. She is so much fun to be around and always amazes me with her perseverance and passion. She is super organized, which will come in handy when I am going crazy during the final week!
Kaitlyn is another really good friend from URI who is now all the way in Colorado going to med school. Our whole group of friends is SO proud of her for following her dreams, even if she had to go all the way to CO do to so. We miss her dearly and I am SO happy she can be a Bridesmaid!
Kristen is one of Kenny's sisters. She currently lives in the DC area and Kenny and I went to visit her last summer. She is one year older than me and we have a lot in common. I really wanted to include her in the wedding party and I am thrilled that she can do it.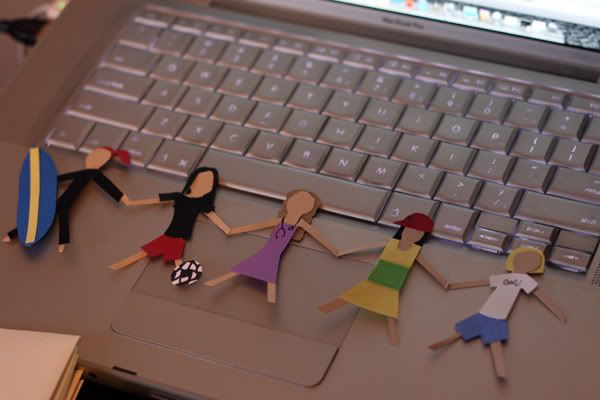 I sent each girl a card with one of these paper fold-out people chains. Each little "person" represents one of the bridesmaids. From L to R we have Kaitlyn (she loves surfing), Samera (she loves soccer), Jenny (she is always wearing adorable dresses and is a RN), Sarah (she is showing her team spirit by wearing a little Red Sox hat), and Kristen (she is an athletic trainer at GWU).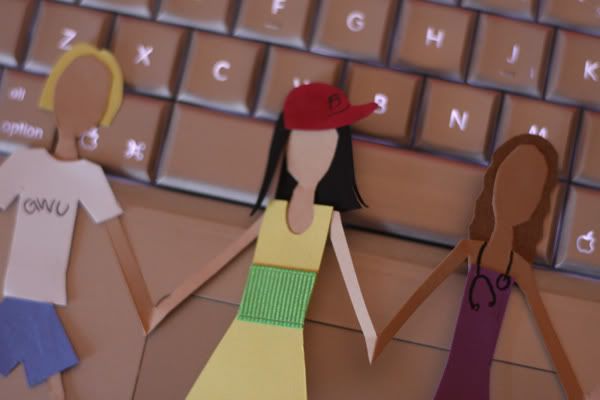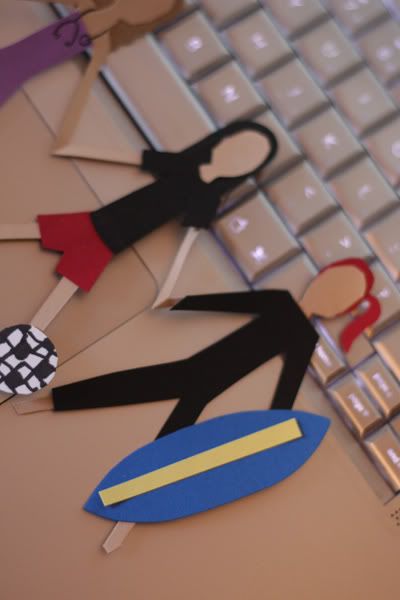 I couldn't ask for a better group of girls. We are going to have the best time and make some fantastic memories.